I'm a woman. I carry a purse. My EDC consists primarily of things I never use. I never dreamed I would carry a knife on a daily basis. But here I find myself, a female professional who pulls out my pocket knife to eat lunch at my desk each day. How did I manage to get here?
My husband put a knife in my hand while we were friends in college. In case you can't tell by this site, he loves photography. He loved it then just as much as he does now so of course he documented me fondling his EDC knife at the time. If you can't tell, I was mesmerized by that knife, a Gerber AR 3.0 My appreciation for the beauty and practicality of knives only grew from there.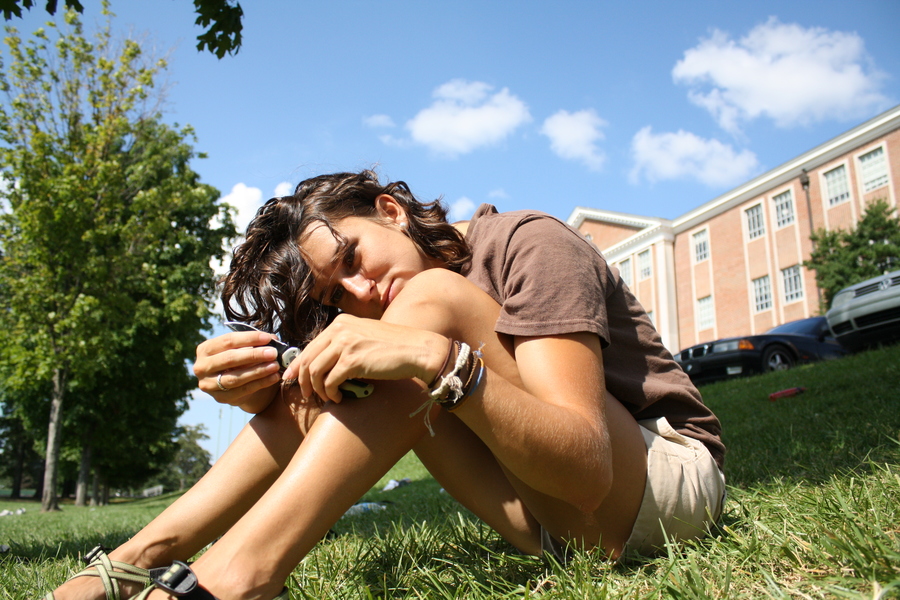 So here I find myself, on Treehouse EDC reviewing a few things that I deem important and worthwhile to have on me each day. Unfortunately, I lost that knife for a few years only to find it later, very dirty and at the bottom of an old purse on my closet floor, which is total fitting that my favorite knife ultimately ended up in my purse. In the meantime though, I found myself a new EDC knife, one that has quickly become my favorite. The knife currently residing on my person is the Benchmade Mini Griptilian.
General Specs
The mini griptilian is a simple, classic knife, and one that perfectly fits my EDC needs (plus it gels with my simple sense of style). Coming in at 2.8 ounces, it's in the middle of the pack in terms of weight, which makes it ideal for carrying either in the pocket, or in my case, a small bag/purse. With a classic drop point style blade with a plain edge only measuring 2.9", my coworkers don't get too scared when I break it out in the office for lunch. Of note is that the Mini Griptilian is also produced with a tanto and sheepsfoot blade style, neither of which have ever really appealed to me. The steel on my mini is 154CM, which seems to hold an edge for quite some time given the daily tasks I use it for.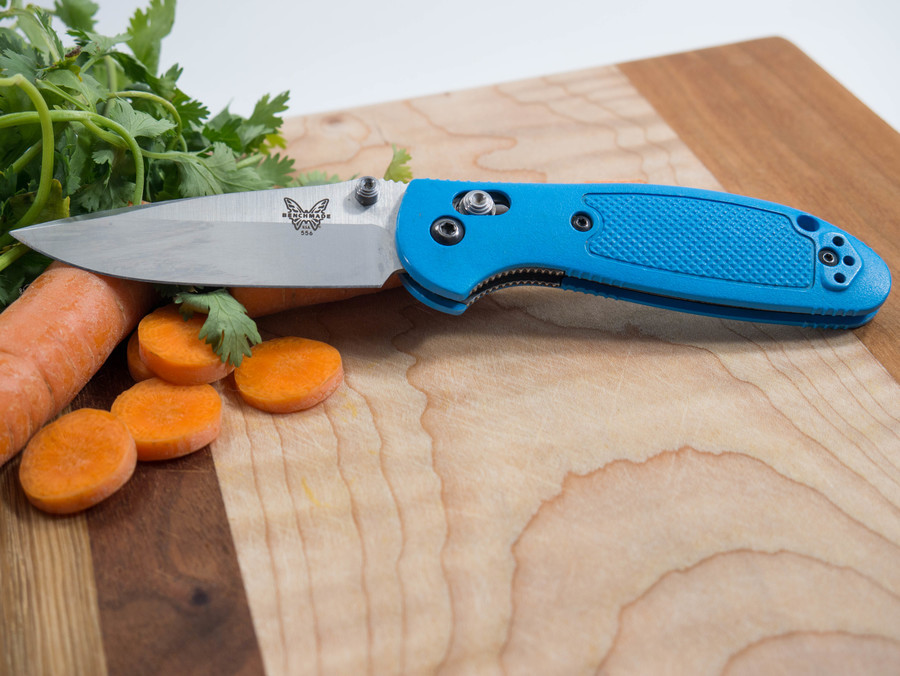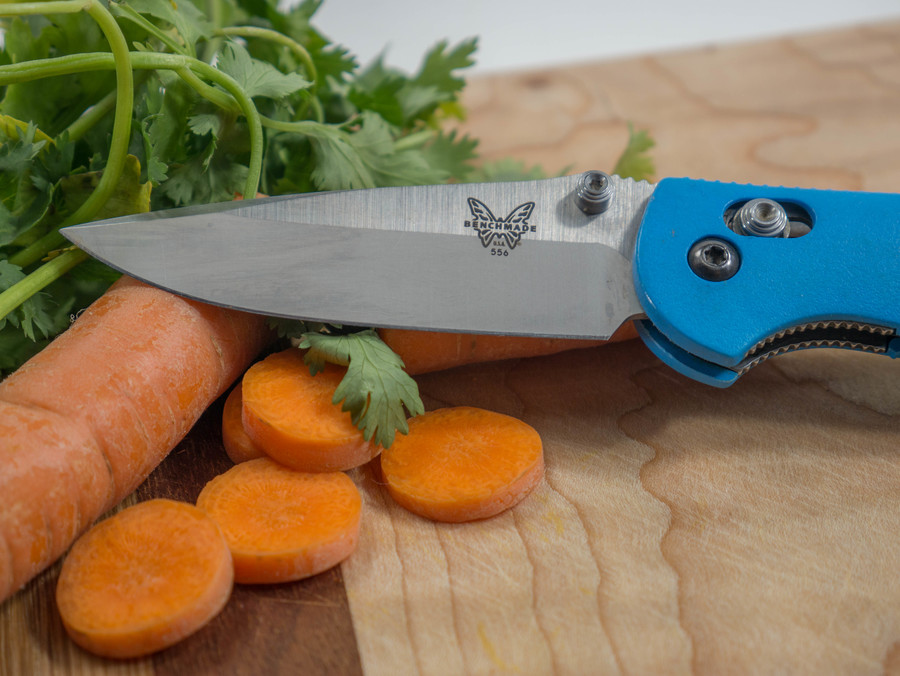 Comfort
Given the fact that I'm not typically carrying the knife actually on my person, the comfort of this knife really relates to my ability and comfortableness while actually using it. The Mini Griptilian is smaller than its larger counterpart, the Griptilian, making it perfect for my relatively small hands. All four of my fingers seamlessly wrap around the handle in what feels like a very natural and sturdy formation. Add that to the nice texture of the finger groove and thumb ramp, and I've got a pretty confident grasp on the mini.
The handle is glass-filled nylon, which some say feels cheap, but I've found it to be quite comfortable, which is what really matters to me. The detailed texture of the handle provides a nice friction in my hand, making it easy to use in really any situation.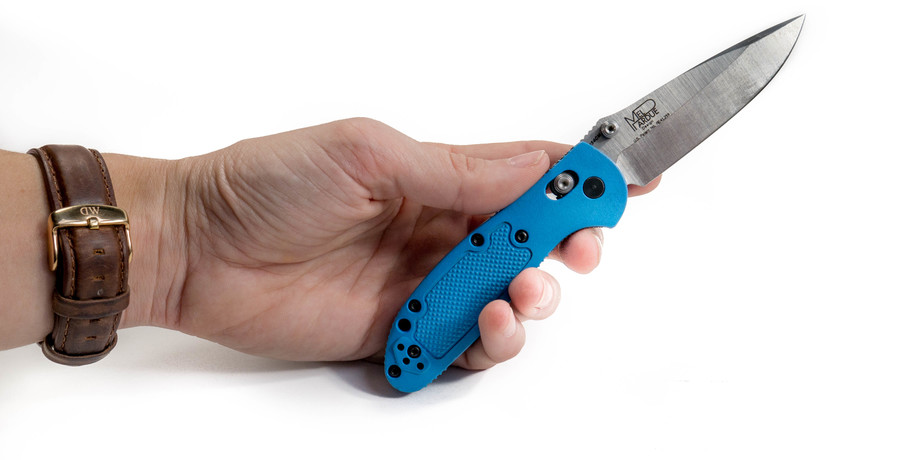 Security
Despite my love of knives, I've still got a lot of respect for the tools that they are, which sometimes makes me wary of knives that are fast and loose. I don't like knives with assisted opening mechanisms as I find them somewhat scary, and in truth, deploying them makes me feel like I'm about to get into a knife fight in an alley. In fact, I'll typically elect to control the opening of these knives with two hands. For that reason, I love the design of the thumb stud and the manual opening of the Mini Griptilian, which ultimately allows me to open the knife at my own pace. When tightened and lubed appropriately, it's easy enough for me to open with only one hand, a feat that often escapes me with larger knives. The AXIS locking mechanism in the Mini Griptilian is also really nice as the spring-loaded metal stud is easy to pull back to release the blade to close.
Coming in at around $100, it's definitely not the cheapest of the EDC knives out there, but it's been my favorite thus far (yes, even better than the Gerber AR 3.0).