Summary
The Daylite Plus is a 20L frameless pack classified by Osprey as an everyday pack. Whether you are in the market for something easy to grab as you venture out on that day-hike or a lightweight means of carrying your everyday carry items, the Daylite Plus is a great candidate. It will definitely outperform most daypacks less than $100 and has a ton of applications where it is my go-to pack, but it straddles a lot of different applications and ends up being a jack of all trades, but a master of none. If you're trying to spend 50 bucks on a backpack for use when you go on an outdoor adventure this is a great pack stuffed full of features you won't find in a 20 dollar pack from Amazon, but if you have a more specific use (laptop bag, commuter bag, hydration pack), there are bags with more focused feature sets that might be a better fit.
Check out this demo of what its like to pack up the Daylite Plus!
Key points of this review: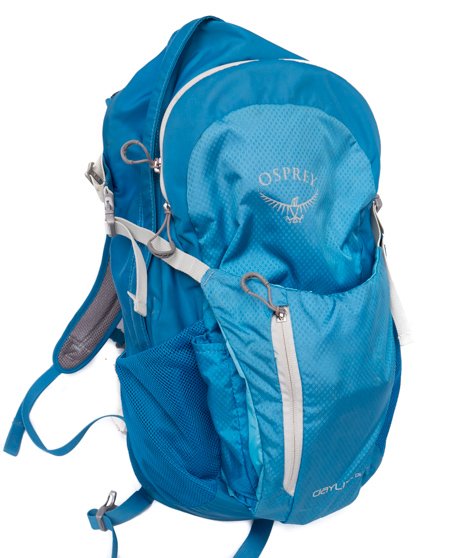 My Experience with the Diaper Daylite Plus
I bought this pack with the intent of using it as a diaper bag for my first child. My wife and I were increasingly frustrated by the design of conventional diaper bags, with their lack of easy opening zippers and focus on fashion over function. This bag performed significantly better than our previous bag and was a lot more comfortable to carry around and was easier to access in times of distress (emergency diaper changes) with the large zipper pulls. It was a good size for a diaper bag and we didn't really miss any of the 'diaper bag' specific features.
Ultimately a few minor annoyances caused this bag to be dethroned as our daily diaper bag...
The two side mesh sleeves are too shallow to secure a Nalgene or any wider water bottle. They can fit, but they are by no means secure and if your pack is heavily loaded the bottles are prone to fall out.
The other thing that annoyed me about this product was the design of the exterior 'shove-it' pouch. When the cinch down straps are tight, they get in the way of reaching the zipper pulls of the main compartment.
Despite those shortcomings the bag still is in my rotation and it has now found a new home as my go-to bag for day trips, specifically my fishing and kayaking daypack. It is a good size for carrying everything for a day trip on the river, which for me generally includes water, snacks, all my tackle boxes (and there are so so many), a Leatherman multitool, some extra clothes, sunscreen, and a hat. The bag fits nicely in the rear cargo area of my kayak and makes it easy to lug around when launching and unloading my kayak. Even though I am still sometimes annoyed by the above mentioned issues its much less of a factor when I'm not holding a baby in one hand while I'm trying to access the pack.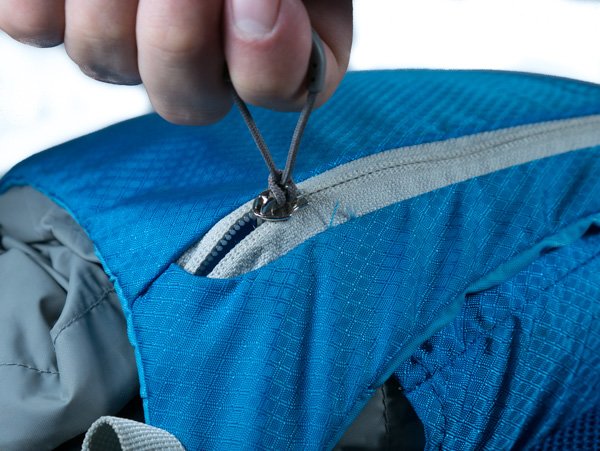 Best Uses for the Daylite Plus Daypack
Dayhikes
Music Festivals
Diaper Bags
Disney Daypack
Secondary Pack to a Full Size Pack
Flight Carry On
Fishing Bag
Running/Biking Commute Bag
EDC (everyday carry) Bag
Bug Out Bag
Less than Desirable for…
Primary Laptop Bag - I would not trust the padding with an expensive laptop. (I love my Osprey Pixel)
Above average height individuals - The vertical shoulder strap adjustment is limited
Overnight Hiking Trips
College Backpack
Comfort
The Daylite Plus is a very comfortable pack that employs Osprey's breathable shoulder straps. These shoulder straps have a conveniently adjustable chest buckle as well as an adjustable waist strap, both of which help minimize movement of the pack while being worn.
For people who are unfamiliar with technical backpacks these features can seem unnecessary, but the first time you load any considerable weight into your pack you will appreciate the thoughtfulness of Osprey's design. Their straps always seem significantly lighter and thinner than their competitors, but they provide ample cushion, and the curvature of the straps carry the weight very evenly.
Another subtle design choice is Osprey's use of their vented back padding, which allows your back to get more airflow on those sweaty hikes. It is rigid enough to keep the shape of the pack, but also flexible enough that it could be rolled up and stuffed somewhere for storage.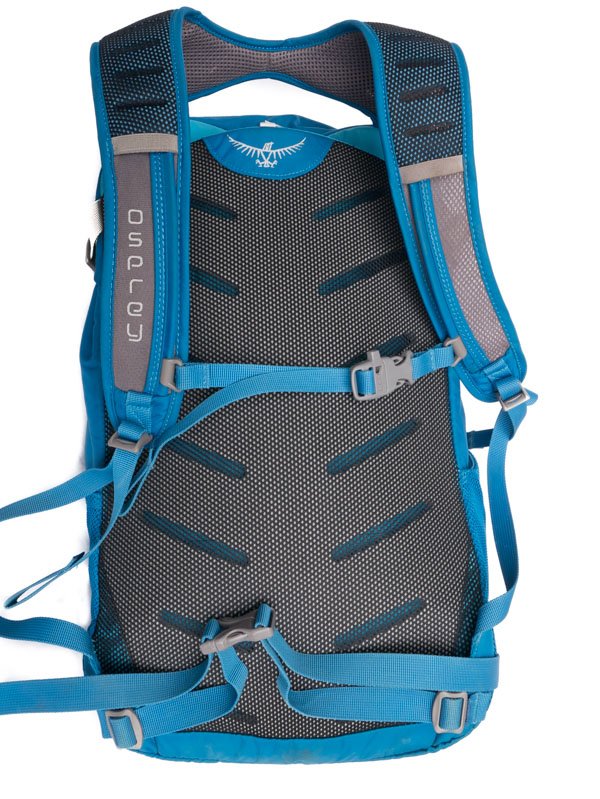 Pocket break down
Osprey definitely designed this pack with organization in mind. The different pockets in various sizes makes it easy to divide your items by desired accessibility.
Main Compartment – The main zipper compartment is approximately 19 inches deep and contains a lightly padded laptop sleeve. The laptop sleeve also has a buckle that can be used to secure any laptop, tablet, etc.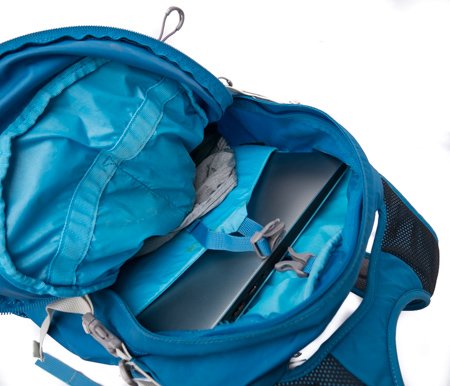 Front Zipper Pouch - The smallest pocket, located on the outside of the pack, is particularly useful for smaller items that you may need quick access to.
Key/Accessory Pocket – This top exterior pocket contains mesh pockets for organization as well as a key hook.

Hydration Sleeve – Though it doesn't come with the pack itself, a hydration pack could easily be slipped into the hydration sleeve on the backside of the pack.
Side Pockets – Each side of the Daylite Plus has a mesh, open pouch for water bottles. These are great when the bag isn't fully packed out, but as the internal capacity is increasingly utilized, these pouches become less and less useful. If you lean forward with a full pack and full Nalgene or Hydroflask, it will most likely fall out of the sleeve.
Shove-It Pouch – This open-air pouch is perfect for storing a light-weight rain jacket. Attached straps and buckles make it easy to cinch down anything stored in this area.
Comparison to Similar Products
With all their history and expertise, it's no wonder Osprey makes a variety of daypacks similar to the Daylite Plus, many of which are compared below. In this size range, Osprey has made the Daylite Plus lighter without compromising on storage, organizational features, and aesthetics. If you're debating between the Daylite Plus and the Daylite packs, you'll see below that with an approximate 50% increase in capacity for only a 30% increase in cost, you can't really beat the additional functionality and features of the Daylite Plus.
Made By Osprey
| Pack | | Size | Weight | Main Function |
| --- | --- | --- | --- | --- |
| Daylite | | 13L | 1.0 lbs | Hiking, Everyday, Travel |
| Hikelite | | 18L / 26L | 1.5 / 1.6 lbs | Hiking, Everyday |
| Talon | | 20 / 22L | 1.9 lbs | Hiking, Adventure Racing |
| Escapist | | 16 / 18L | 1.6 / 1.7 lbs | Hiking, Biking |
There are also a lot of other great daypacks on the market in addition to those made by Osprey. Many of the brands like REI, Deuter, and Gregory, who are known for their larger packs, also make comparable daypacks to the Daylite Plus. However, I have a total of 5 different Osprey packs of varying sizes and have never been let down so I elected to go with the Daylite Plus when opting for a new daypack. But as always, choose what suits your needs best!
Non-Osprey Products
All mighty Guarantee
One thing worth mentioning is that the Osprey Daylite Plus (and other Osprey products) comes with the All Mighty Guarantee. Any damage or defects in their packs can be repaired or replaced free of charge without question. I can personally attest to the pleasurable experience of getting a new Osprey pack through this process when my zippers broke, which is one reason I so happily return to their products time and time again.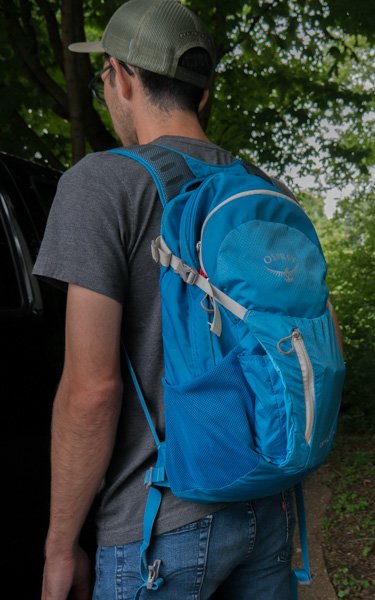 FAQs
Can I fit my laptop in the laptop sleeve?
Unless you have a 10-year old, 3-inch thick laptop, yes. The width measures 15" and the depth is approximately 19". My 15" XPS fits snugly. It is about the size of a 15" Macbook Pro.
What size hydration bladder would this fit?
3L
Would this be a good backpack for college?
If you don't go to class or don't have a lot of books and binders then maybe. It would not handle multiple heavy textbooks and a laptop comfortably.
How can I clean my Daylite Plus?
Simply throw it in the washing machine on cold with no detergent and hang to dry. Voila!