The ESEE Izula is an incredible little do-all neck knife from ESEE. It is a high-carbon fixed blade that is great for EDC. It is small enough to fit in your pocket but strong enough to tackle jobs that your folding knife might not be robust enough for. I typically carry a folding knife with me most days at the office, but will reach for my Izula when going camping or building fires.
Quality
The ESEE Izula meets the same rigorous quality standards as its larger cousin the ESEE-3, but in a smaller package. The knife comes without any handle scales, and generally is seen out in the wild sporting either a paracord wrap or aftermarket scales.
The scales pictured can be found here.
Utility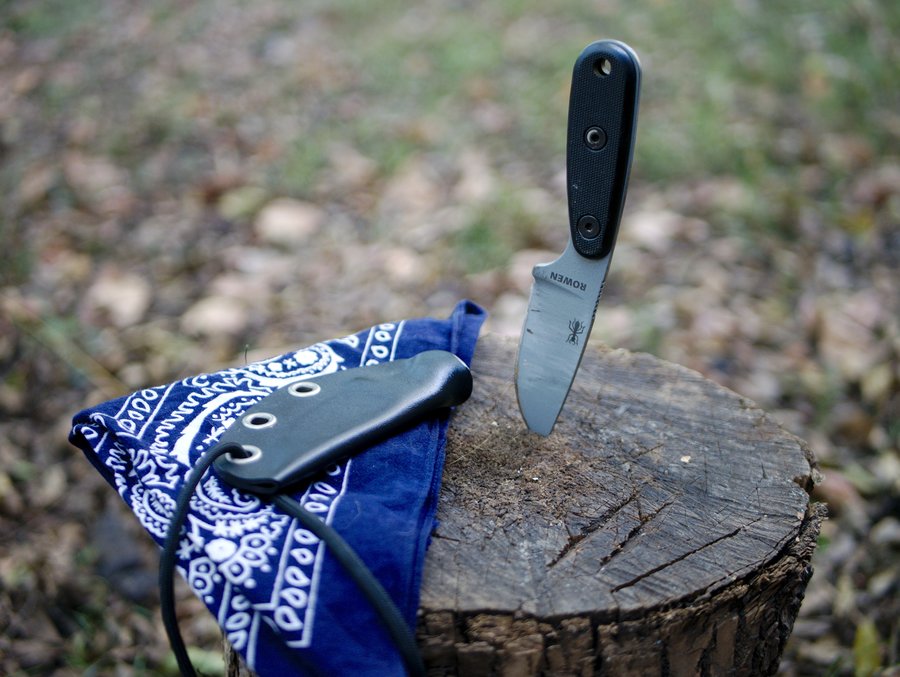 The Izula can be worn around the neck, in the pocket, or on a belt without much fuss. It is great for EDC cutting tasks and is comfortable for general use. If the Izula is to be used as a survival blade it is highly advisable to purchase grips or at the very least give it a paracord wrap. The skeletonized handle can dig into the hand after extended use.
Those will larger hands will also have to consider the handle typically does not generally provide enough space for all four meaty fingers. I have not noticed this issue because my hands are on the smaller side but I could see this being an issue for some. My one complaint for the Izula is the blade is slightly short for my tastes. I recognize that it is designed to be small, and complete the necessary tasks for survival in a minimal package, but I found myself wishing I had an extra inch on the end of the blade. This was most apparent for me during food prep, as I constantly found myself having to rotate the blade around apples or other hard fruit to cut completely through. It does fit an interesting niche of fixed blades that are small enough to carry without effort to conceal.
Value
The Izula runs in at about $60 which is little more than some of their competitors such as the Ka-Bar BK11. Depending on your budget the extra $20 bucks might not be worth it for the ESEE name, but if my life were depending on this knife I would certainly pony up. You can certainly tell a difference in the finishing on the steel, and its hard to argue with the ESEE warranty.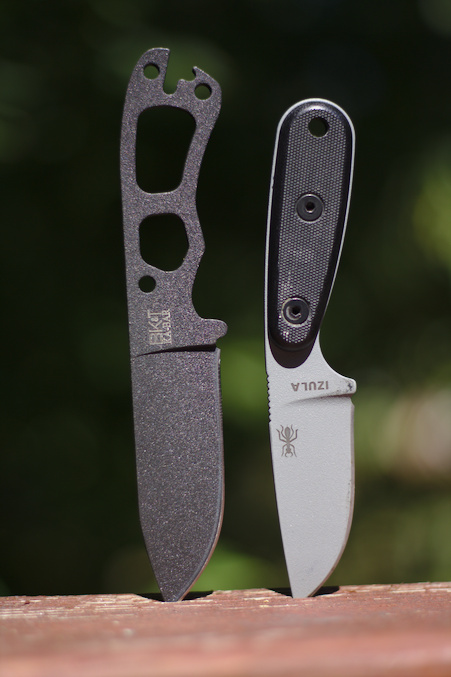 Specifications
Weight
  <th>
    Blade Length
  </th>
  
  <th>
    Handle
  </th>
  
  <th>
    Lockback
  </th>
</tr>

<tr>
  <td>
    2.0 oz
  </td>
  
  <td>
    2.63"
  </td>
  
  <td>
    Skeletonized 1095 Steel
  </td>
  
  <td>
    Fixed
  </td>
</tr>