Overview
If you are looking to haul lots of gear comfortably and you're tired of fighting your top-loading backpack to quickly access the contents of your bag this duffel provides a welcome alternative. Although it is not totally waterproof and the shoulder straps don't magically turn this bag into a technical backpacking pack, it takes the traditional duffel design and spices it up with weather resistant materials and backpack style shoulder straps.
The Patagonia Black Hole Duffel is a great all around travel bag from Patagonia for the adventurer that wants to keep it simple. It has a drop dead simple design with enough additional comfort enhancing features and quality materials to make it well worth the price tag.
Key Features
45L / 60L / 120L Sizes available
detachable shoulder straps
water-resistant coating
3 zippered pouches
high-visibility interior
durable material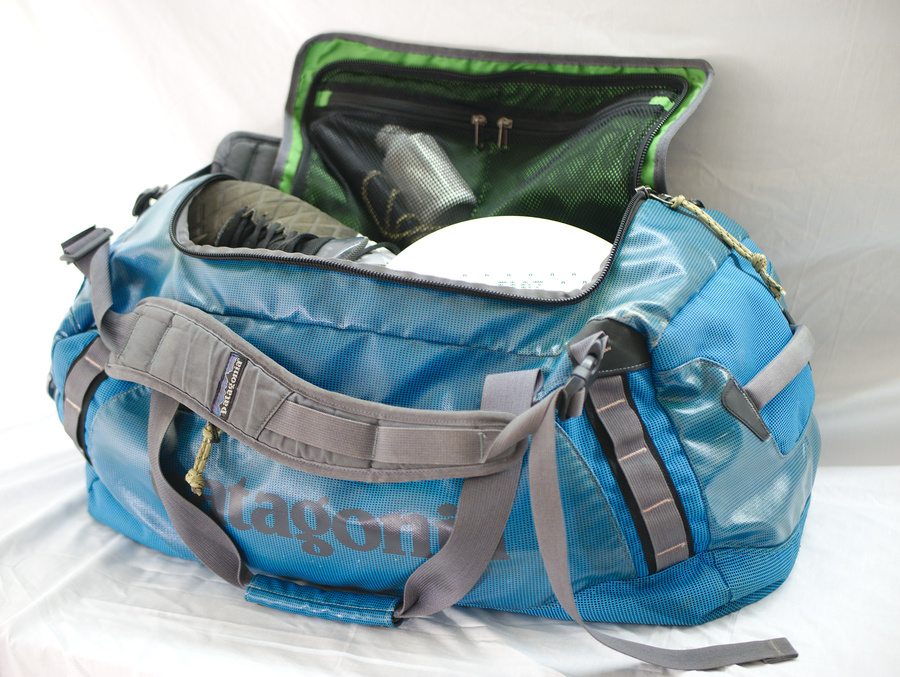 The Black Hole Duffel comes in a variety of different sizes. The bag pictured here is the 60L bag.
My Experience
My primary experience with this bag over the past 3 years has been using this bag as an ultimate frisbee bag. I started out searching a medium sized weatherproof bag that had easy access. I started out using medium sized daypacks like the Osprey Talon 33L or a combination of smaller bags. I eventually got frustrated having to slim down my weekend carry when I headed to the field, as well as the struggle of fighting through your stuff to find what you were looking for. I also was always keeping an eye to the sky to ensure my bag was under cover if dark clouds were approaching.
When I first purchased this bag I was under the impression it would stand up to sitting in the rain for the duration of ultimate frisbee games without leaking through to my clothes and other gear. I quickly realized that it was not waterproof, just merely water resistant. This was somewhat of a let down considering the price of the bag, but overtime the bag has won me over. It is big enough to carry all of my gear, but still feels much less cumbersome when loading into tight quarters. Having all of your stuff sharing one compartment takes some getting used to, but it has so much more capacity than a similarly sized backpack. For longer trips (or trips where I know I want to avoid my dirty clothes sharing space with clean clothes), I generally pack things into a couple of medium sized dry sacks. This provides a flexible system for organization and a great way to keep from the entire contents of the bag absorbing the smell of wet socks.
The 60L bag is plenty of space for me to live out of for about a week of casual living, or a weekend of outdoor activities. The bag started out as my adventure bag, but has gradually replaced my traditional luggage for most trips.
An example of whats in my bag for a weekend trip
2 days worth of clothes
sunglasses
hat
rain jacket
cleats
jersey/shorts
32 oz and 18 oz Hydro Flask
DSLR
toiletry bag
snacks
Highs
duffel format is practical
great for a single use bag
shoulder straps
water resistant
top pocket is great for quick access
lots of places to hang on
efficient on space
Lows
not waterproof
you have use some other organizational method
side pocket is small
not comfortable for extended carrying
no protection for fragile things
Design
The Black Hole is an apt name for this bag as its design is dead simple. It consists of a large main compartment with access from the top flap via a U shaped zipper. The flap folds out to allow plenty of space to access the main compartment. The main storage area is designed with a high visibility color to make digging things out of the bag in low light a little easier.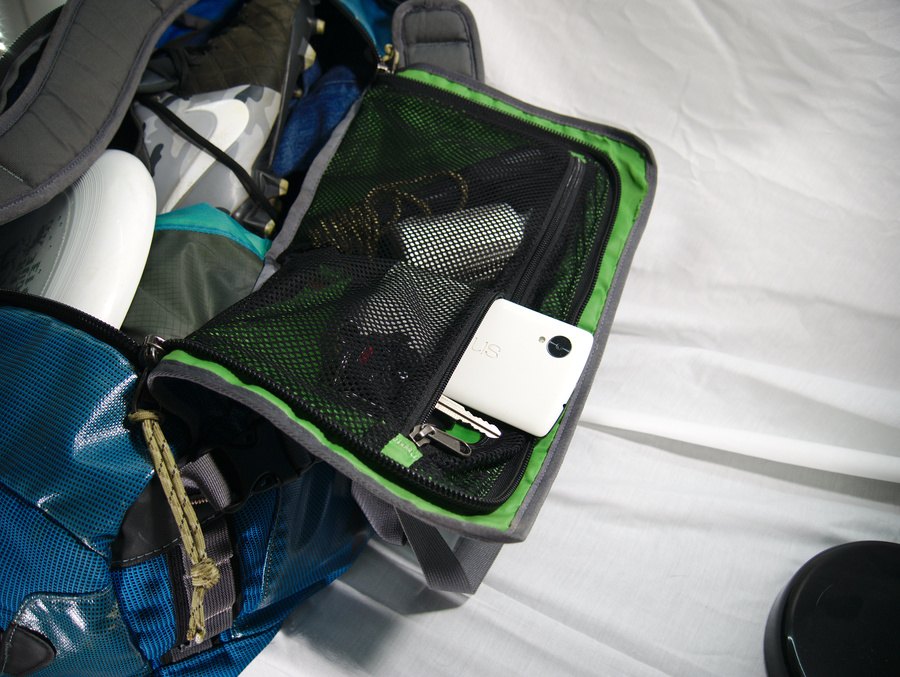 Two mesh pockets on the top flap. Easily big enough for phone and wallet.
Pockets
There are also three other additional zippered compartments. Two independent mesh zipper pouches on the top flap as well as one exterior zipper pocket on the outside of the bag. The flap pockets are perfect for toiletries or other small items you don't want to have to dig for. The singular exterior pocket is great for holding things like a boarding pass or your wallet. If your bag is jam packed full of stuff the exterior pocket can be a bit difficult to get in and out of because of the way the pocket shares some real estate with your main compartment.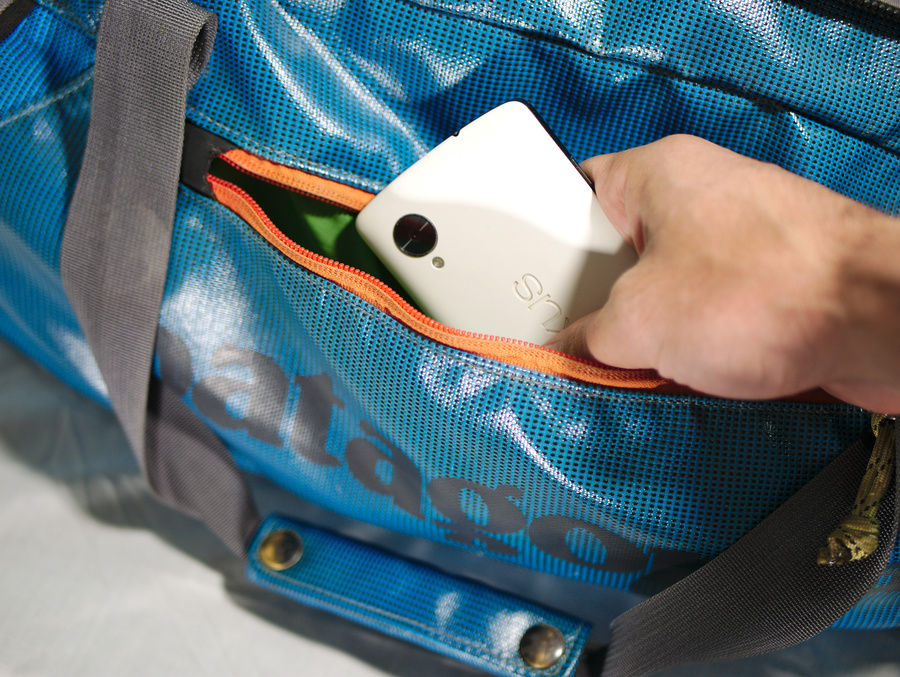 Front pocket for keeping things you need to access in a hurry.
Material
The bag material is Ripstop polyester with the exterior sides and top coated in a weather resistant thermoplastic urethane film laminate. If you don't know what those things are that's totally fine. The bag feels like a big canvas duffel bag bag with the sides and top coated with a weather resistant coating. It feels heavy duty, but not so heavy duty that it makes it feel burdensome. The bag has no frame or any real rigidity beyond the stiffness of the material which makes it easy to compress if empty or lightly packed. The bottom floor of the bag is lightly padded which gives it a little bit of shape and insulation from the outside but not enough that I would ever feel comfortable throwing my laptop in it without a dedicated case or cover. It is marketed as a weather resistant bag and has generally held up well against light rain but in a downpour some moisture will leak through.
Carry Options
There are numerous carry options with this bag that all come in handy. The one option that sets this bag apart from most duffels is the padded shoulder straps. They allow you to throw the bag over your shoulders and carry like a backpack when the bag is heavily loaded or you are looking to keep your hands free. The shoulder straps are comfortable and convenient but they do not turn the duffel into a backpack. They are acceptable and definitely more convenient than handles, but it won't compete with the comfort of a dedicated backpack with a more rigid design. The straps come with a quick release buckle that makes it easy to lose the straps should you choose not to use them. I generally leave them on as they don't get in the way of accessing the bag's main compartment and are my primary carry option.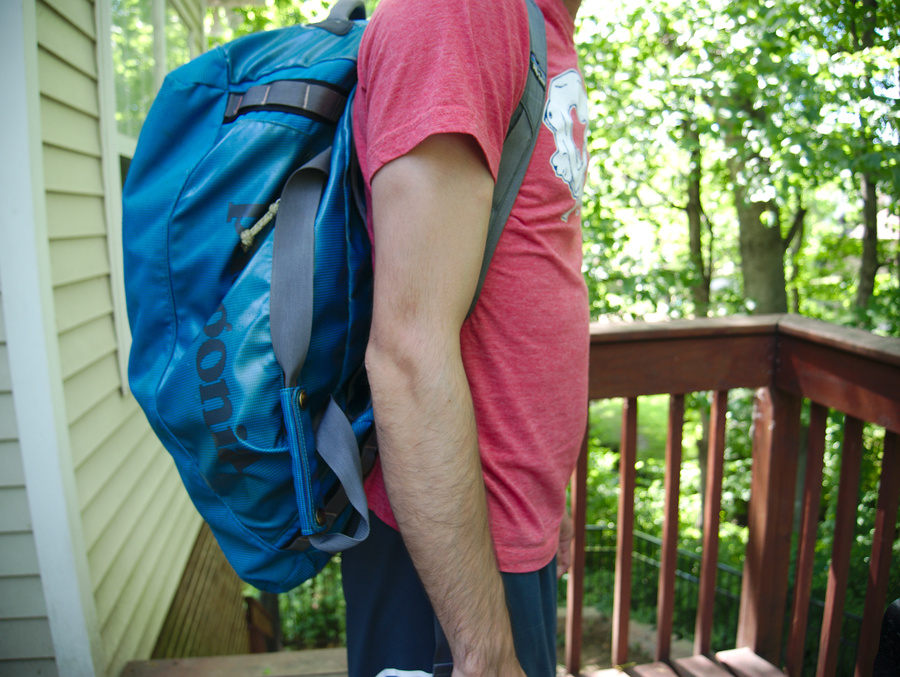 Carrying using the shoulder straps. Very comfortable but bag can get a little saggy if it is heavily loaded.
There are also reinforced handles on either side of the pack that makes it really easy to pull out of a car or clip on a pair of dirty boots. It also has a padded handle that can be used when carrying one handed.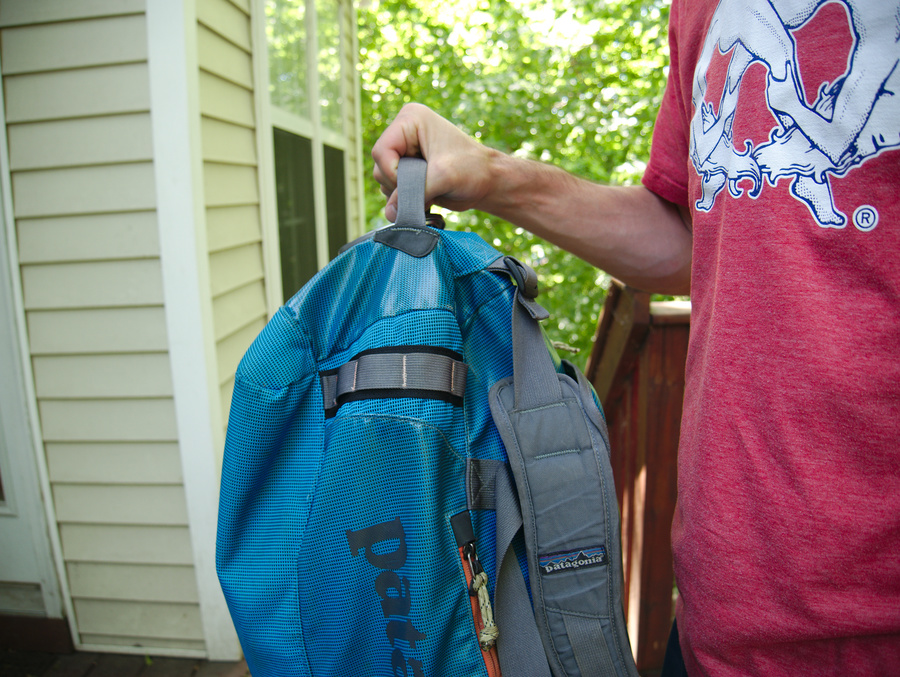 Reinforced handles on both sides of the bag.
Summary
Patagonia uses quality materials to produce a very utilitarian bag that can last many years.