Quality
The SOG Flash II will not go down in history books as one of the most high quality knives to have ever been manufactured. Plainly put, it felt cheap in the hand. My first impressions of the knife were very disappointing. The main complaint I had with the quality control was the significant amount of play in the blade, but also extended to the rattling of the locking mechanism when the blade was not locked back. The knife feels like a large plastic toy. Although as any knife owner will tell you, first impressions are sometimes misleading. Over the past 4 years this knife has earned its place in my pocket day in and day out.
Many SOG Flash II owners complain about the above issues, often discarding the knife for other more high "quality" feeling blades, but I feel they have made a grave mistake. The Flash II is like the Glock of the knife world. There are many finer blades out there that will give you a smoother deployment, a more luxurious feel, and perhaps better blade steel, but like the Glock, the Flash II is not built to be fondled or win a beauty contest. It is designed to perform its objective, without fuss.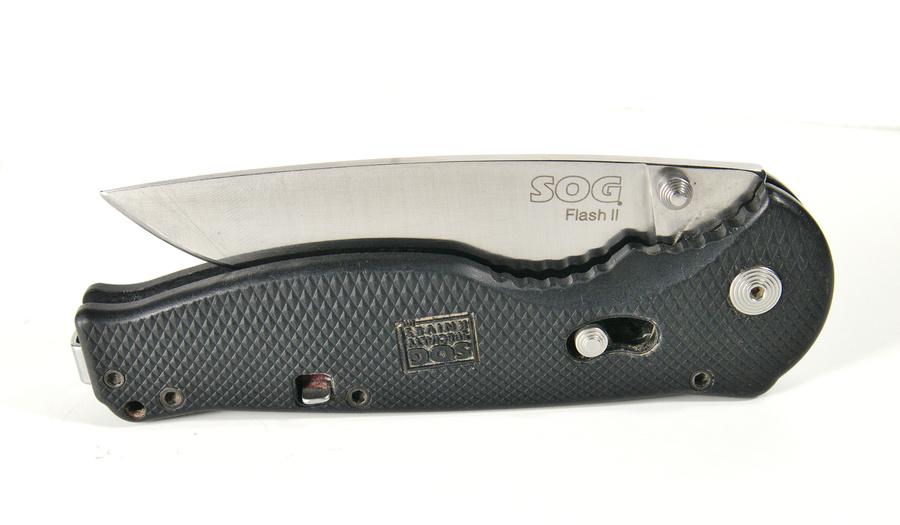 Utility
I began carrying the Flash II almost out of obligation, having purchased the knife I felt some sort of duty to give it a fair shake. Within a few days I began to appreciate and depend on the blade as a functional and opportunistic ally. Some of the things that make this knife feel cheap are the same things that make it one of my favorite EDC knives. The knife is very large with a 3.5" AUS-8 blade with a drop point shape, but weighs in at only 3.1oz. Normally I have a tendency to equate weight with quality and dependability, but this SOG constantly teaches me otherwise.
SOG makes a particularly deep pocket carry clip that rides quite low in the pocket. It is quite concealed while not ever seeming difficult to draw. The clip is also rounded and does not contain any harsh lips or edges which I have occasionally found caused me to scratch my truck door when climbing in and out. The friction between the clip and the body of the knife has not yet eaten a hole in my pocket like some of my other knives. It stays exactly where I put it when I slide it in my pocket and I have yet to retire any jeans merely do to a clip wearing holes.
The Flash II also deploys with an assisted spring which allows for speedy deployment. Having an assisted knife has not historically been a priority for me and when I first started carrying the Flash II I found myself uneasy about it shooting out of my hand when I was opening it, but over time I found myself growing accustomed to the flick of the spring. It still can be kind of intimidating to open in a public place but it definitely makes the knife easier to deploy and has made me reconsider looking into other assisted knives.
Value
The Flash II provides serious value for anyone who is looking for a dependable folder that is long enough for a variety of cutting tasks but does not weigh you down. Other knives of this size are typically more than 60 or 70 bucks. The Flash II can be had for around $40. I once lost my Flash II on a weekend trip and before I even returned home I had already ordered myself a new one. I try not to lose any of my knives but it is definitely reassuring that it is not going to break the bank to replace.

Specifications
Weight
  <th>
    Blade Length
  </th>
  
  <th>
    Handle
  </th>
  
  <th>
    Lockback
  </th>
</tr>

<tr>
  <td>
    3.1 oz
  </td>
  
  <td>
    3.5"
  </td>
  
  <td>
    GRN
  </td>
  
  <td>
    Arc Lock
  </td>
</tr>