Overview
There is something attractive about the simplicity of traditional folding knives. With that said, I think that the no-nonsense approach of Opinel folding knives embody this sentiment especially since the Victoria and Albert Museum declared the Opinel knife one of the 100 best designed objects in the world in 1985. Opinel knives are largely unchanged from their original designs from 1890 and consist of four parts: a wood handle, steel collar, a pin, and a blade. All the different models (No1-13) essentially only differ in size, so there is a model for everyone.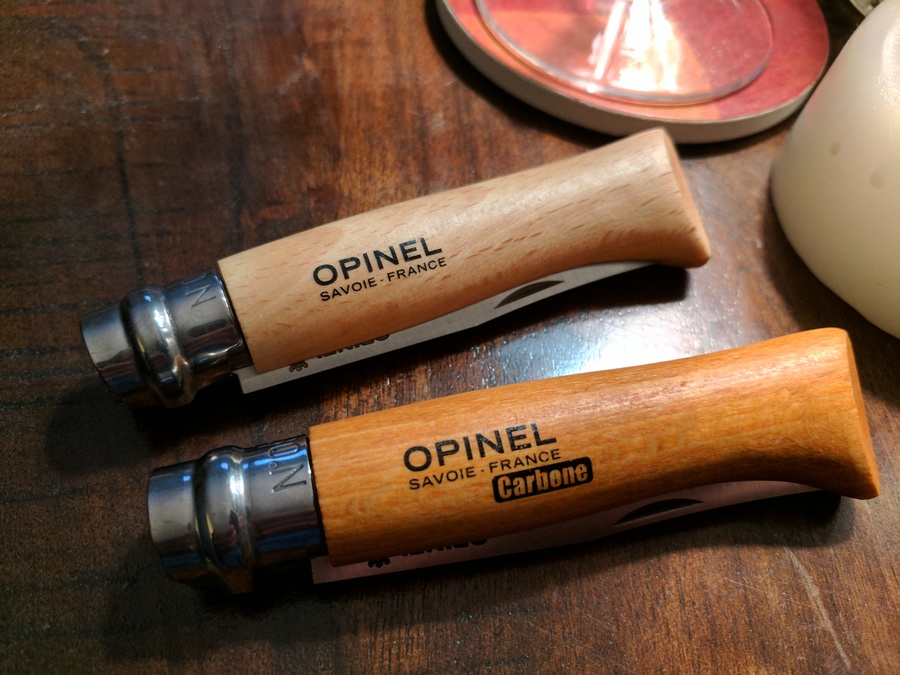 Unlike many traditional american folding knives, which are typically slipknots and utilize a spring bar to keep the knife open or closed with tension, these Opinels use a no-nonsense rotating collar system that locks the blade open or closed.
This type of locking system unfortunately requires two hands for most situations. So if one-handed opening is a requirement for your EDC, then Opinels are definitely not for you. There is a simple trick to open these with one hand but it's not appropriate for field work and is more suited to picnics or work in the kitchen. However, I find it completely usable for the majority of EDC tasks.
Blade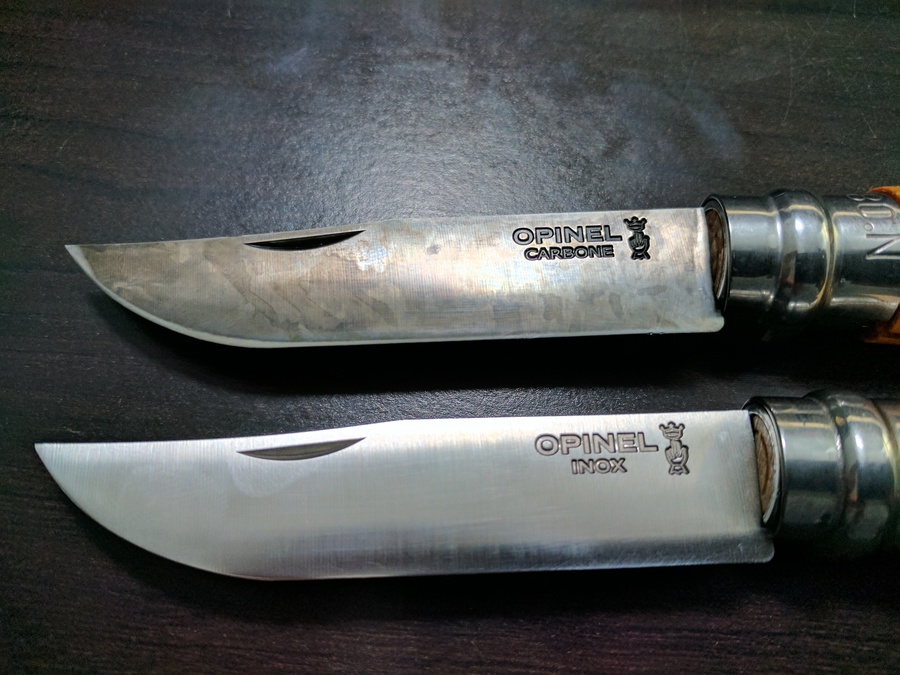 Thus far, I've discussed the traditional design of these knives and its downside. So why are these knives so popular with knife aficionados? Well, first its the price point of $10-15 and the exceptional cutting ability of these blades. The blade has a classic clip-point profile with a nearly Scandinavian blade profile (single bevel edge profile). This combined with the slim blade stock (thickness of the blade) gives tremendous slicing ability from wood carving to food preparation. Note: The two blades that I received had two small micro-bevels at the edge--so they are more close to a convex edge at this point.
Combine the excellent blade and edge profile with the fact that you can obtain both a high carbon and stainless (inox) version, these knives are a steal of a deal. I haven't done a rigorous comparison of the edge retention between the carbone and inox versions but the online communities rate them equivalently. Therefore, if you are looking to use one of these knives for outdoor activities like bushcrafting then the inox version should work adequately without compromising longevity of a sharp edge. Both versions have a very sharp 90-degree spine that works well with ferro-rods.
Handle:
I've been working with these knives from food prep to wood carving and the wood handle is extremely comfortable. Also, the overall knife is extremely lightweight since there are no liners which makes working with these blades very easy. I did find that moisture was somewhat of an issue upon first arrival, especially after food prep. After the pivot point was wet, the blade would become extremely hard to move open or close. Actually, this was more of an issue on the carbone version than the inox version which may be related to how they seal the wood. I believe that the carbone version has a varnish finish and the inox has a polyurethane finish (note the different color).
Modifications
To fix this issue, I did not want to disassemble the entire knife nor sand the original finish off of the handle, so I sealed the entire handle. It was an extremely easy process and involves baking your opinel in the oven at 350 F with a light coating of olive oil. Below is a "before" picture.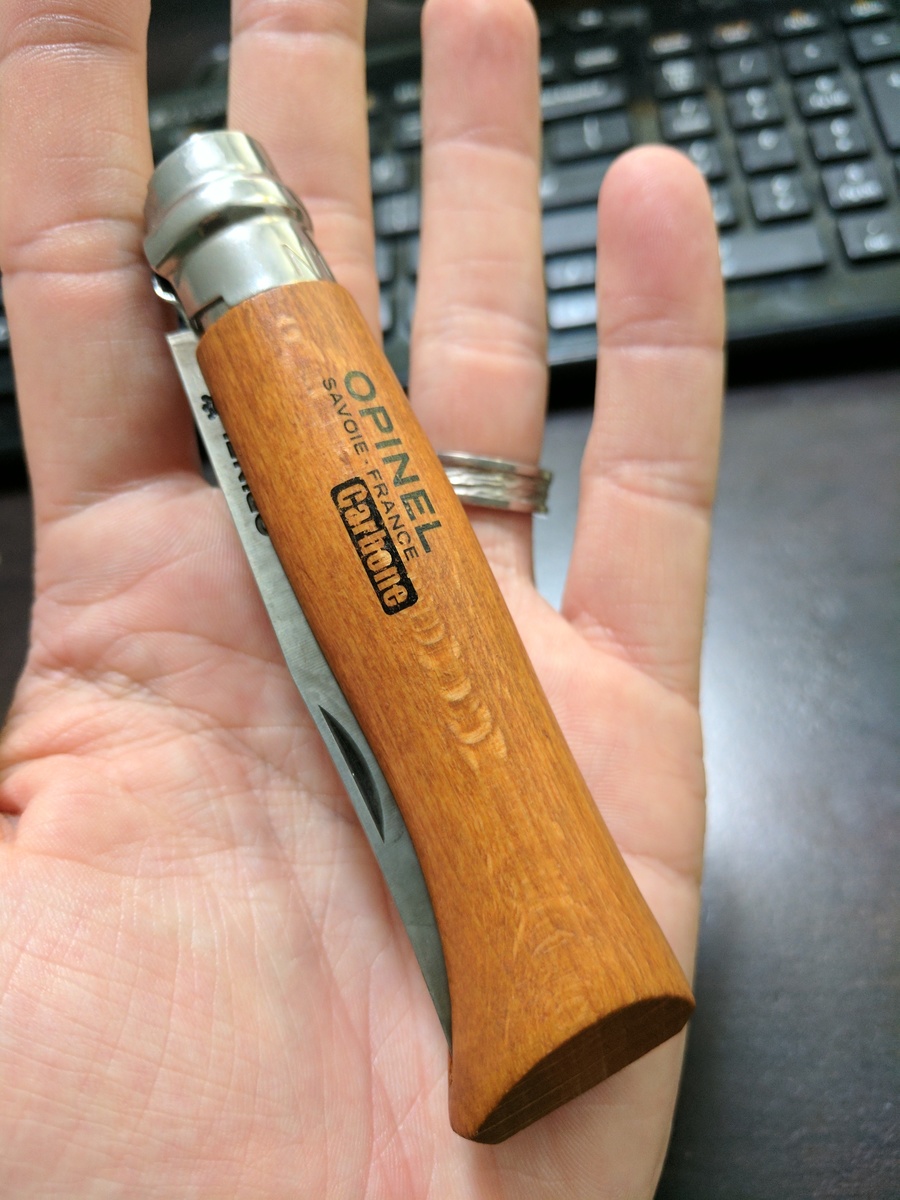 Below is the "after" picture with some excess olive oil still present. The difference is uncanny and looks similar to the walnut handle finish.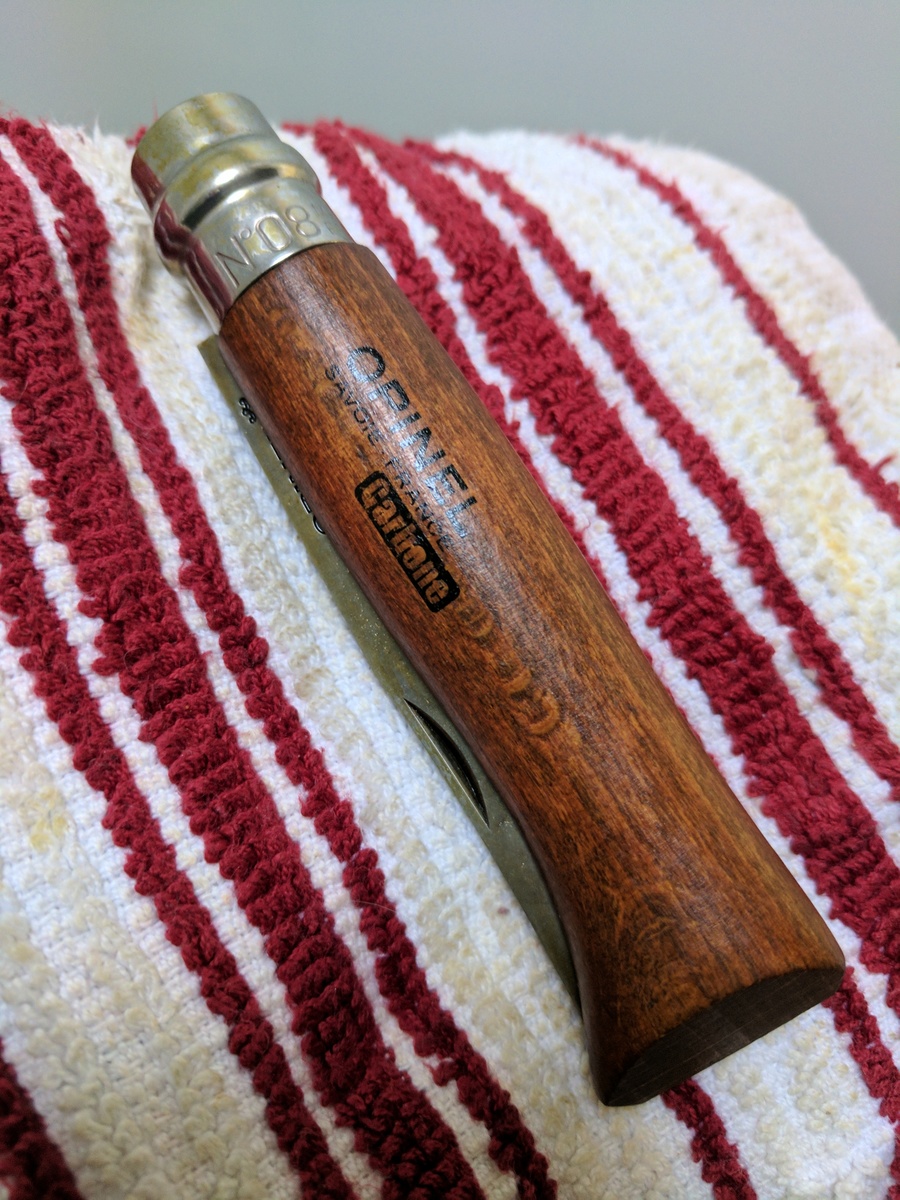 After sealing the wood I haven't experienced any wood swelling from moisture and it is actually a bit easier and smoother to open than originally. Update: Actually, it has made the entire opening much easier and now can be opened one handed as shown in this video.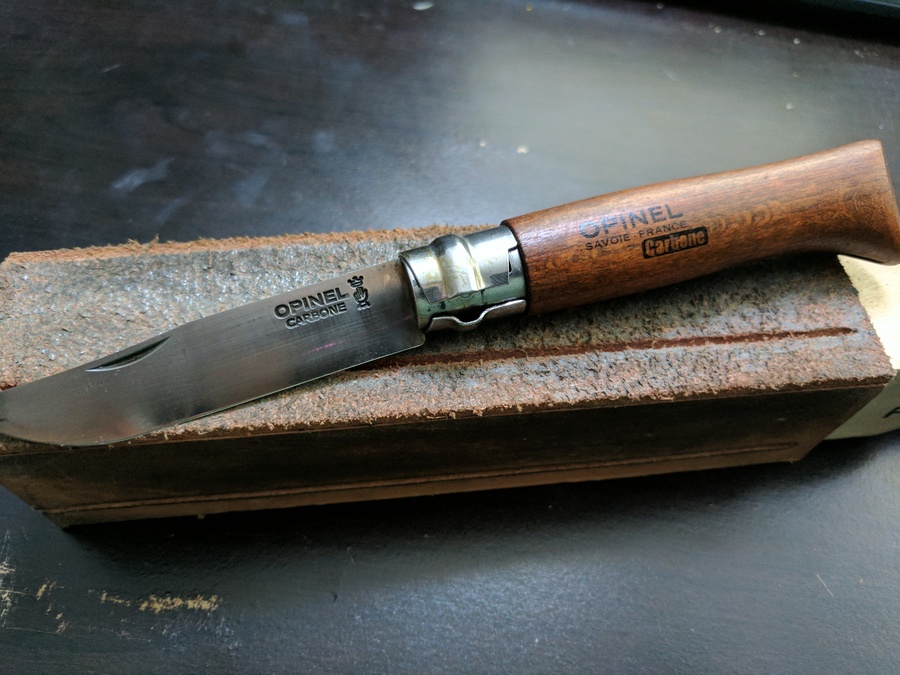 Conclusions
Overall, I've really enjoyed EDC'ing the carbone version for about a month and can definitely recommend these knives to anyone in the market for a traditional blade. The blade profile and grind really make this knife excel at cutting and it's hard to beat at the price point of $10-15.
Please note that the carbone version will rust if proper care is not provided.
Where to get one:
Also, if you are in the market for affordable kitchen knives, Opinel has a wide variety of options.
Additional pictures: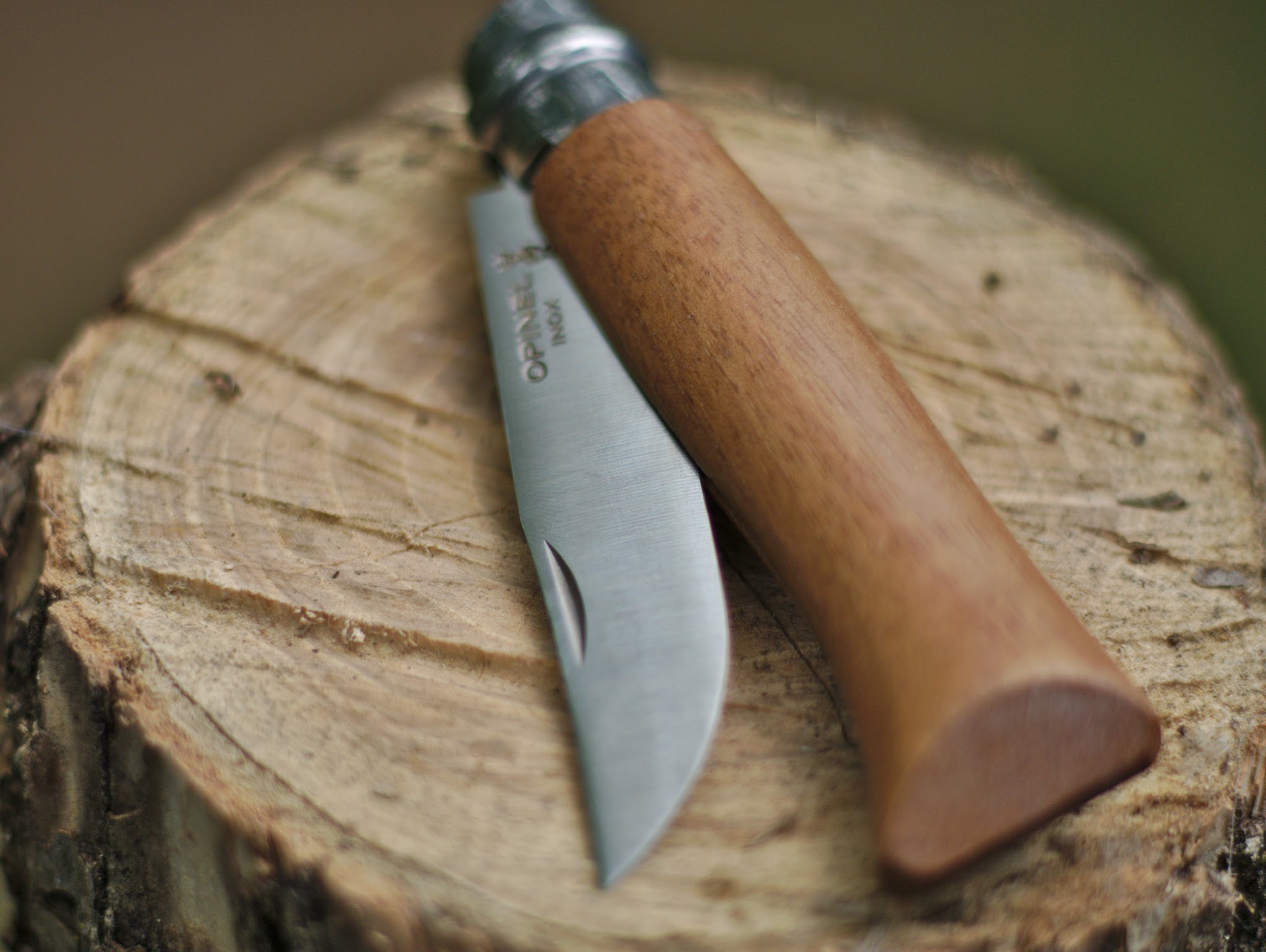 Pictured above is Rob's walnut inox version.